Pro Comfort Basement Carpet Installation Near Bremerton, Olympia, Silverdale
A smart solution for a comfortable, mold-free basement floor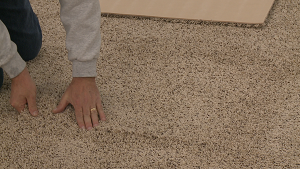 Warm feet, worry-free. Pro Comfort Carpeting feels soft under your feet, provides a warmer floor & won't be ruined by moisture or mold.
Choosing the right floor options for a finished basement can be a challenging process. By their very nature, basements are prone to water damage from moisture from the slab, plumbing leaks, and groundwater seeping in from the outside.
Pro Comfort Carpeting is the ideal solution to these basement finishing problems because of its mold-resistant design. Traditional wall-to-wall carpet in the basement eventually allows moisture to build up and cause mold, odors, and other problems, but a combination of Pro Comfort Carpeting and ThermalDry® Insulated Floor Decking™ will protect against these issues and give you a warm, dry, comfortable floor.
Call CleanSpace Northwest at 1-833-567-3753 or click below for a free quote to have your basement finished with Pro Comfort Carpeting. We offer expert basement finishing in Olympia, Bremerton, Silverdale and surrounding areas.
What to expect with Pro Comfort Basement Carpeting
Warmer floors: Pro Comfort Carpeting creates up to a 17-degree increase in floor temperature when installed with ThermalDry® Insulated Floor Decking™.
No mold or odors: Combining Pro Comfort Carpeting with ThermalDry® Insulated Floor Decking™ provides airspace under your carpet, so water vapor can't get trapped and create musty odors. There are also no organic materials for mold to grow on.
Comfortable basement floors: Integrated padding and the ThermalDry® Insulated Floor Decking™ create a softer, more comfortable surface.
Easy replacement: The modular design means that any damaged or worn carpet tile can be replaced without having to replace the entire carpet.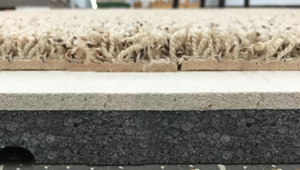 The solution for concrete floors: ThermalDry® Insulated Decking creates a warm, soft barrier between the cold concrete & your feet - and keeps your carpet mold free.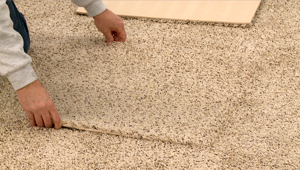 Modular design: Individual carpet tiles make it easy to replace any damaged or worn areas of the carpet - a huge advantage over wall-to-wall carpet.
Let your local basement finishing experts install your new carpet
As your local authorized Total Basement Finishing dealer, CleanSpace Northwest offers top of the line basement flooring products and complete basement finishing solutions. Our team of specialists has the training to solve all your basement finishing needs. Pro Comfort Carpeting is the latest innovation in our line of award-winning products, and we will give you a warm, dry, and comfortable basement floor for years to come.
Call us today for a free estimate on all our Total Basement Finishing services. We proudly serve in Centralia, Port Angeles, Bainbridge Island, Port Orchard, Rochester, Poulsbo, Aberdeen and throughout the surrounding areas.
Looking for a price? Get a no cost, no obligation free estimate.