Finishing a basement properly requires a dry, clean space and long-lasting, top-quality materials. A little planning and preparation beforehand can save you a bundle of money (and big headaches) several years down the road.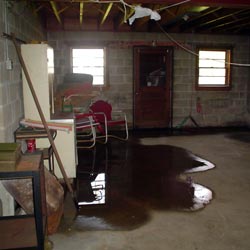 Address all sources of standing water
If your basement is flooding, your first step is to solve this water problem. Make sure gutters & downspouts are working properly, and that the ground slopes away from your foundation to avoid water accumulation against basement walls. Install a waterproofing system in your basement. A full perimeter drainage system with a sump pump that has battery backup will provide the best dry basement insurance –even during a power outage.
---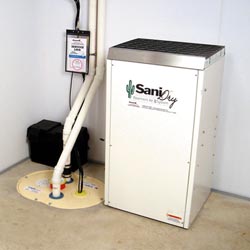 Control basement humidity
Even in a "dry" basement, high humidity can cause mold & moisture problems because of outside air leaking into the basement, clothes washing & drying, and soil moisture that permeates through the foundation floor & walls.
Installing a basement dehumidifier is an excellent way to keep humidity levels low (50% or less) so that mold is unlikely to take hold. But don't expect a light-duty, room-size dehumidifier to work effectively in your basement.
Our SaniDry™ XP Dehumidifier is a high-efficiency, low-maintenance dehumidifier designed specifically for the basement environment. This ENERGY STAR® model not only allows you to dial in your target humidity level; it also has a multi-stage air filter to trap mold spores, dust mites and other indoor air pollutants.
---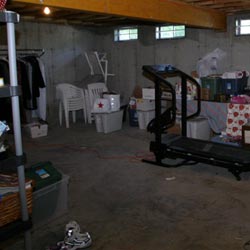 Consider how much space you'd like
Most homeowners will not plan on finishing the entire basement. Instead, a portion of the basement will usually be set aside as a utility area, where your water heater, furnace, and other utilities will be located.
Many homeowners will also designate an additional section of their basement to serve as a laundry room and/or storage area.
If you'd like to upgrade the appearance of these spaces without actually finishing them, we have products that can do that for you too -- such as our insulated Basement To Beautiful™ insulated basement wall panels. Our waterproof basement flooring is also a great option for laundry rooms and storage areas.
---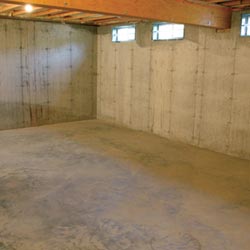 Plan your rooms around obstacles
Basements are unique spaces that provide remodelers with challenges that aren't found anywhere else.
When remodeling your basement, your experts will have to consider challenges such as limited ceiling height, staircase locations, and where your utilities are placed in the basement.
Windows are also a unique challenge for remodelers -- as you won't want a wall built in a way that it intersects with a window location.
In the case of basement bedrooms, these windows may need to be developed for egress access (an emergency exit) to meet local and state building codes.
---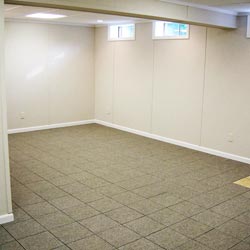 Choose the best finishing materials
Many basement finishing jobs begin with our crew tearing out inappropriate finishing materials used in an earlier remodeling effort. It's messy and discouraging to remove moldy carpet, clumped fiberglass, crumbling drywall and rotted wood. That's why we only install basement finishing materials that won't attract mold or be damaged by moisture.
Do it once. Do it right. Avoid the expense and mess of doing it over. That's a motto we use in all our basement remodeling projects. We can fulfill this promise because of the innovative finishing materials we've developed specifically for basement conditions. Take some time to check out our insulation, flooring, wall panels, ceiling tiles and other exclusive products –you'll like them as much as we do!