Basement Finishing Contractors Near Olympia, Silverdale, Bremerton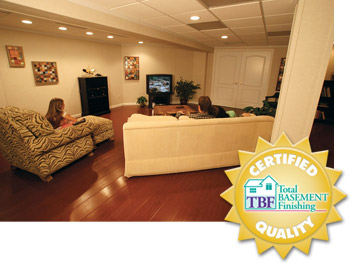 Creating Beautiful Remodeled Basement Spaces
Imagine finishing your basement once -- and having it stay warm, beautiful, and healthy for the rest of your life.
With the Total Basement Finishing™ System, you have that lifelong security. With products that include a 50-year basement wall warranty, a 30-year ceiling tile warranty, and a wide variety of waterproof floorings, choosing Total Basement Finishing™ is the way to finish your basement for life.
CleanSpace Northwest is your locally owned and operated Total Basement Finishing™ contractor in the Washington area. In operation since 2003, we proudly serve Port Townsend, Shelton, Belfair, Gig Harbor, Hoquiam, Chehalis, Kingston and the surrounding areas.
Finished Basement Walls, Floors, Ceilings & More!
The Total Basement Finishing™ System is a complete basement renovation package. This means that you can count on us as your one-stop remodeling source -- including the walls, floors, ceiling, windows, lighting, electrical -- anything you need!

Additionally, the versatility of this basement finishing system allows for you to do virtually anything you want with your basement. Add an extra bedroom and living space, or mount a TV on our studless basement walls and design an entertainment room!
If that doesn't suit you, you can create a home office, children's play area, basement bar, home gym... anything you can imagine is possible through CleanSpace Northwest and Total Basement Finishing™!
Free Basement Remodeling Quote for WA Homeowners
If you're interested in planning and pricing for your remodeling project, CleanSpace Northwest can help. We would like to offer you a free basement design quote at no obligation.
Your free quote includes all of the following:
A professional on-site basement inspection.
A design consultation with Total Basement Vision- our interactive software program.
Your basement finishing proposal-- in writing and e-mailed to you or printed right away.
Our full-color 88-page book: "Basement Finishing Science".
At CleanSpace Northwest, our mission is to provide you with responsible basement finishing, at a fair price, while providing the best customer service in the contractor industry. Call or e-mail us today for your free basement finishing quote! Bring YOUR space from Basement to Beautiful in no time at all!