Finished Basement Flooring Products Near Olympia, Bremerton, Silverdale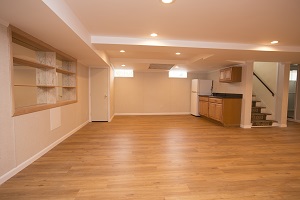 Get more from your floor
The finished floor in a basement needs to be beautiful, durable, easy to clean and immune to damage from moisture and mold.
Choose any of our solutions for warmer, comfortable basement floors
Of all the surfaces in your home, your floor is the one you are in contact with most often. If you use inappropriate flooring in a basement environment, it will soak up cold from the concrete below, making your space uncomfortable underfoot. This is different from your naturally warm floors upstairs.
CleanSpace Northwest provides many different finished basement flooring options, all of which are designed to keep your basement warm, comfortable, and beautiful for many years to come.
We offer our basement finishing services throughout Washington, including Olympia, Bremerton, Silverdale and areas nearby. Call today to schedule a free estimate!
Install a finished floor in your basement that's made to last
Since basements are vulnerable to humidity from the concrete below, it's important that your flooring will not be damaged by moisture. Organic materials like wood and carpeting will eventually grow mold, mildew, and rot.
Click on any of the pictures on our gallery below for more information on our available colors and designs for each of our available floorings.
MillCreek Wood-Look Laminate Flooring

MillCreek Flooring™ is made using a patented process that creates the same look & feel of a genuine hardwood floor but without the significant disadvantages that wood has in a moist basement environment. Available in Light Oak and Mahogany wood tones. Ten-Year Limited Warranty.

Advantages over real wood flooring:
ThermalDry® Tiled Basement Floor Tiles

ThermalDry® basement floor tiles are engineered for basement environments. Although these square tiles look like stone or ceramic tile, they're designed to install easier and last longer in a basement. Two tile colors are available: Sandstone and Canyon Beige.

Advantages over stone, ceramic, and marble tile:
ThermalDry® Carpeted Basement Floor Tiles

Like other ThermalDry® basement flooring, our carpeted floor tiles are designed to keep your basement floor warm, dry and easy to care for. Unlike a long blanket of carpeting, damaged or worn ThermalDry® tiles can easily be replaced. Charcoal and Mocha carpet tones are available.

Advantages over traditional carpeting:
ThermalDry® Parquet Basement Floor Tiles

Want the look of a finely crafted wood parquet floor in your basement, with none of the wood's disadvantages? If so, you'll love ThermalDry® Parquet Floor Tiles. Although a finished ThermalDry® parquet floor looks remarkably like real oak parquet, our tiles will never warp, crack or require expensive refinishing, no matter how long your floor is in place.

Advantages over real wood parquet flooring:
ThermalDry® Insulated Floor Decking™

ThermalDry® Insulated Floor Decking™ is an innovative basement subfloor that combines insulation with inorganic, water-resistant flooring.

Advantages over wood subflooring:
Pro Comfort Carpeting

Pro Comfort Carpeting is a completely inorganic carpet and is the only completely waterproof basement carpeting available.

Advantages over traditional carpeting:
Looking for a price? Get a no cost, no obligation free estimate.