Basement Spray Foam Insulation Near Olympia, Silverdale, Bremerton
Thermal Benefits of Crawl Space Spray Foam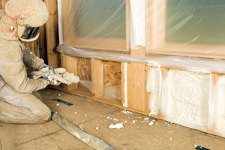 Each homeowner has to decide the value of money -- is it worth enough to buy the best? Can installing the right insulation really increase the value of your home? It sure can.
We know how the saying goes: "You get what you pay for." But you ultimately choose where to place your money. If you're looking for a great investment on your insulation — one that can offer strength, high thermal-resistant qualities, and high-sealing benefits -- then you've come to the right place.
CleanSpace Northwest is your local basement and crawl space spray foam contractor in Washington. Contact them today for your Free Estimate for WA spray foam insulation installation. We proudly serve Olympia, Bremerton, Silverdale and nearby areas such as Centralia, Port Angeles, Bainbridge Island, Port Orchard, Rochester, Poulsbo, Aberdeen, Shelton, Belfair, Kingston, Port Townsend, Hoquiam, Chehalis, Gig Harbor as well as the surrounding areas of Washington.
Thermal Benefits of Crawl Space and Basement Spray Foam In WA
The R-value of insulation is a measurement of a product's insulation capabilities -- meaning how well the product resists heat flow. When a particular form of insulation claims to have a specified R-value, we have to remember that this value has been defined using laboratory conditions, and not real-life conditions.
The difference could be quite large. Spray foam's R-value has been shown to be the highest amongst all insulation types in real-life scenarios with proper installations.

The R-value can be influenced by how well the insulation has been installed and by the number of holes in the wall. An insulation's R-value could drop in some cases by more than four levels.
Spray foam, however, provides a consistent R-value because it expands to fit in its place, leaving little or no gaps or holes in its insular barrier. This tightness and superior sealing also limits air flow within the insulation, making for a better-insulated area and a more energy efficient product.
Efficiency and reliability together provide an environment for the proper functioning of heating and cooling, which means less wasted energy. With basement insulation, you no longer have to worry about losing energy through leaky ducts or holes.
Increase The Value Of Your Home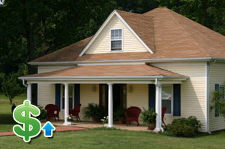 Whether you're in the market to sell your home or you just want to make the most of your living space, energy efficient upgrades are well worth the investment.
While you may spend a little more money up front for energy efficient repairs or products, the investment is quickly returned in lower energy costs and more efficient product functioning. By installing spray foam insulation, you'll quickly observe the cut energy rates and how easy it is to maintain.

ENERGY STAR homes are 30% more efficient than other homes -- and that's all because of their building envelope upgrades, high-grade windows, air filtration, HVAC, sealing, and water heater equipment.
Installing Spray Foam Insulation In Washington
CleanSpace Northwest can help you upgrade your home by installing closed-cell spray foam insulation. Our certified in-house contractors have provided spray foam installations throughout the Olympia, Bremerton, Silverdale, Port Angeles, Bainbridge Island, Aberdeen, Centralia, Rochester, Poulsbo, Port Orchard, Shelton, Belfair, Kingston, Port Townsend, Hoquiam, Chehalis, Gig Harbor area.
If you'd like a free spray foam insulation quote for your home, call or e-mail us today. Each quote is provided in writing and includes a personal on-site inspection and consultation.
Looking for a price? Get a no cost, no obligation free estimate.